Dr. Donald McGann, the founder of Progressive Orthodontic Seminars, is a self-made legend in field of orthodontic continuing education. His passion for education and innovation led him to dramatically change the careers of thousands of general dentists around the world. Learn more about Dr. McGann's extraordinary career with these fun facts.
1. He was denied access to the graduate ortho department of his dental school
As a dental school undergrad, McGann wanted to spend time in the graduate ortho department in order to decide if he should become an orthodontist. His request for access was denied. However, he was welcomed to the periodontics clinic. This experience served as inspiration to begin his lifelong journey of making orthodontics more accessible to all dentists.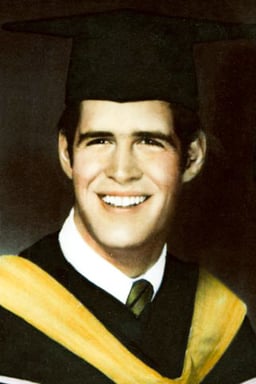 Dr. B. Donald McGann graduated from dental school in 1974
2. Voted most likely to succeed when he graduated dental school
Dr. McGann graduated from the University of the Pacific Dental School in 1974 with OKU honors and the Hinman award for 3rd highest GPA. His successful career of running 2 practices and launching a worldwide dental education company proved his classmates right.
3. Provided free emergency care at local convalescent hospitals early in his career
While waiting for construction to be finished on his first practice in Laguna Niguel, Dr. McGann began working as an associate in a practice for elderly patients. This sometimes required him to visit local convalescent hospitals to provide care. Oftentimes, these visits would lead to Dr. McGann offering his services free of charge to other patients in need at the hospitals.
4. His first lecture was impromptu after the instructor for a course he was attending didn't show up
One weekend in 1978, Dr. McGann was attending a 2-day orthodontic seminar in San Francisco. However, for some unknown reason the instructor did not show up on the second day. Given his take-charge demeanor, Dr. McGann decided to step in and give impromptu lectures on mixed dentition diagnosis and Crozat appliances. The instructor did end up arriving to the seminar around 4:30PM and gave a 15-minute lecture before calling the class to an end without explanation. Little did Dr. McGann know at the time that this would only be the first of many lectures he would give throughout his career.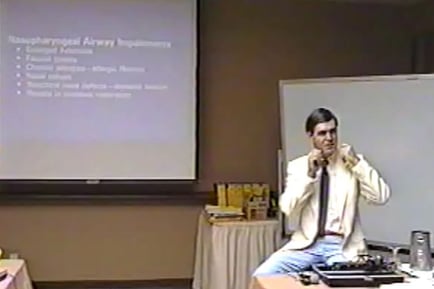 Dr. McGann giving a lecture early in his career


5. Says he would have bet his life savings that he would never give an orthodontic seminar
In 1980, Dr. McGann taught his first formal 2-day orthodontic seminar in Chicago with the United States Dental Institute on Adult Orthodontics. Because orthodontics was such an exclusive specialty, he never imagined himself becoming involved in the field as an instructor. As he suffered from stuttering, he also dreaded public speaking, making it even more ironic that he would eventually become a fully-fledged educator.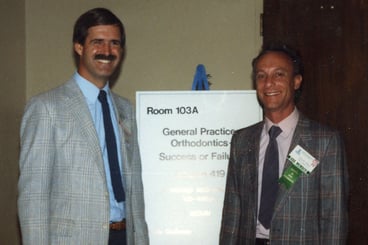 Dr. McGann grew to enjoy public speaking
6. He spent 70 hours per week for 2 years preparing for the first POS seminar (all the while working 32 hours per week in his practice)
When Dr. McGann decided to start Progressive Orthodontic Seminars in 1982, he greatly underestimated the time commitment it would take to get up and running. After approximately 8,000 hours of preparation, he taught the first POS seminar in Sacramento in 1984. After 17 years of running 2 dental practices and POS, he sold both practices to focus solely on POS for 12 years before retiring in 2013.
Dr. McGann spent thousands of hours preparing slides and clinical videos.

7. Once taught a seminar to all orthodontists
While his main focus was on teaching orthodontics to general dentists, in 1996 he taught a seminar to only orthodontists on molar extraction, non-surgical class II treatment and cortectomy. His vast wealth of orthodontic knowledge was proven to be just as great as any orthodontist, even though he was not a specialist himself.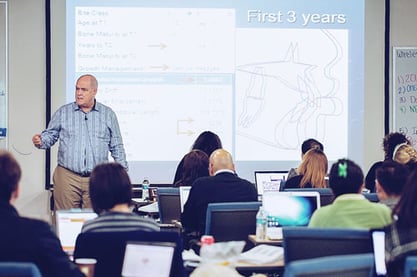 Dr. McGann was dedicated to teaching orthodontics at the highest standard of care
Although Dr. McGann is now retired, dentists around the world can still benefit from his life's work by attending Progressive Orthodontic Seminars.
Did you attend one of Dr. McGann's seminars way-back-when? Share your experience in the comments below!