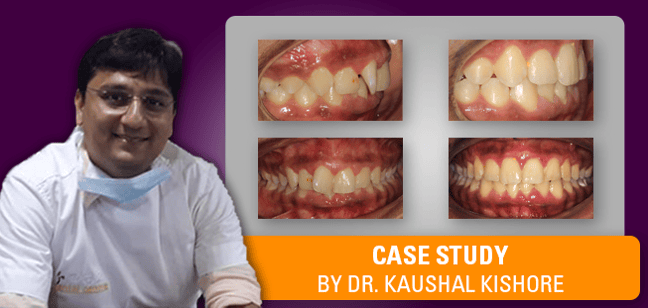 In the spirit of giving thanks, we are sharing a story that we received from POS Instructor, Dr. Kaushal Kishore. Learn how he successfully used growth with a new orthodontic technique to treat crowding and a gummy smile.
A Great Smile Leads to Much More
My name is Dr. Kaushal Kishore and I love the way that orthodontics changes a person's life.
For the past seven years, I have provided orthodontic care to over 500 orthodontic patients. I have worked with patients with variations from simple Class I to those needing mixed dentition, orthognathic surgery or skeletal anchorage.
I apply orthodontic principles of tooth movement and occlusion in every treatment plan in my practice. I believe that dentists must know orthodontics if they want to have a successful dental career.
More notably, orthodontics has been rewarding. I especially enjoy seeing how happy patients become. Several times, parents have been so impressed that they have started treatment after their child debands. In all the different types of patients and case types, I've seen how a great smile leads to a very confident person with better prospects in every aspect of life. Here is a story about one of my patients.
Case Scenario

Summary:

Start Age: 13 years
Duration of treatment: 23 months
Name: Sean (changed to protect identity)
Chief Complaint: Crowding and excessive gingival display
Treatment summary: non-extraction, piriform skeletal anchorage
When Sean came to see me, he mentioned that he didn't like how his teeth looked. He said that his teeth were crooked and too much of his gums showed when he smiled. His parents wanted him to have a nicer smile and asked what we could do.
Evaluation & Diagnosis
With a thorough orthodontic evaluation, I was able to see that Sean was missing the upper right 18 tooth, but still had crowding (5 mm in the lower arch and 3 mm in the upper arch). His skeletal vertical dimension was open with a deep bite. He also had 5 mm of gingival display, lip incompetency, and 2 mm of overjet. He had a Class II relationship with a retruded mandible and retroclined incisors.
His myofucntional evaluation showed that although he had lip incompetence, his breathing was normal, and he had no tongue thrust.
Since he was 13 years old, I wanted to check his growth statistics before providing a treatment plan. He was expected to grow significantly with an upcoming growth spurt, with growth in a vertical direction.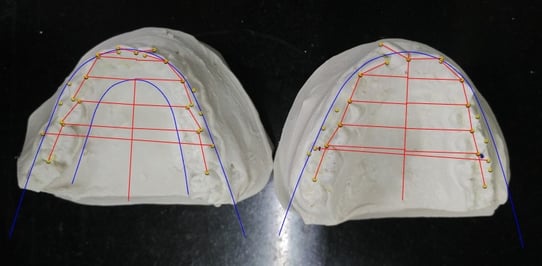 Dr. Kaushal's Digital Model Measuring Analysis on SmileStream diagnostic software,
part of his comprehensive orthodontic diagnosis
Treatment Planning
After comparing different treatment options and VTO projections, I suggested a non-extraction plan. I discussed options with the family, and they agreed with my suggestion to use skeletal anchorage to reduce his gummy smile. They understood how his gingival display may not get full correction without maxillary surgery. But they still preferred this less invasive procedure.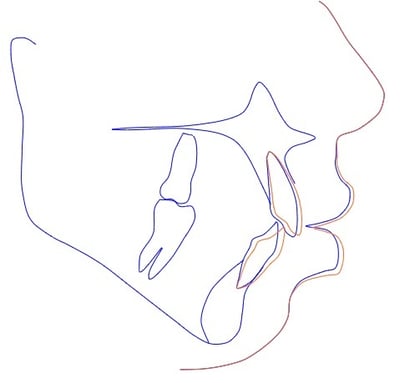 Visual Treatment Objective - a projection of Sean's treatment


We designed our treatment to correct crowding, excessive gingival display, and deep bite with a controlled, limited amount of advancement of the incisors. We designed our appliances to fit Sean's case goals and anatomy. We used a medium ovoid archwire shape on both arches to allow for slight expansion to compliment the labial root torque. We also chose to use custom IP Appliance® brackets including a few brackets with labial torque embedded to better control the amount of incisor advancement.
Treatment started with 014 then 18x25 nitie wires to align teeth, establish torque and level the curve of Spee. When the roots were parallel, we changed to a stiffer 19x25 stainless steel wire. We then placed a bone plate on the piriform rim and attached with a suspended wire to provide extra anchorage. This skeletal anchorage was designed to help to reduce his gummy smile.
Results: A New Outlook

Overall, Sean's treatment progressed well. We aligned his teeth and fixed his excessive gingival display. Unfortunately we decided to finish treatment slightly sooner than we wanted because of Sean's hygiene issues. Even with this setback, his treatment still finished well and I am proud with the results.
What's even better, is how happy Sean was. His parents told me how much more confident he had become and was really thankful for giving him a new outlook and joy. See his transformation below.
Are there any times where you have felt thankful to be a dentist?
Please share your stories below and cases with us (info@posortho.net).