As part of our Consultant Spotlight this month, learn how our POS Consultant and Instructor, Dr. Brian Liao, helps treat a freshman in college gain her ideal smile.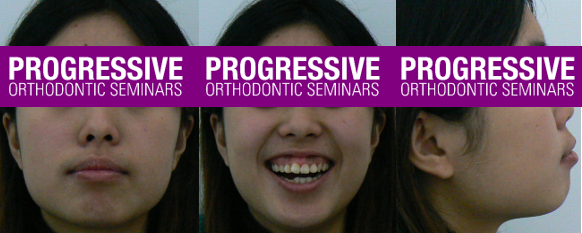 My patient, College Student
Summary:
20- year- old

Wants to improve smile

Crowding, protrusion and excessive gummy smile

Treated by extraction of upper and lower arch with gummy smile correction

2 year and 6 months treatment
My patient has been concerned with her overall facial looks and was quite self-conscious about her crowded teeth and the excessive gummy smile. She had just entered first year in college and noticed quite a few of her friends have orthodontic treatment. She came to my office because she heard that we specialize in gummy smile correction.
Evaluation & Diagnosis
During initial consultation, patient had around 7-8 mm of gingival display showing with a convex profile based on the E-plane. There was generalized upper and lower crowding with protruded upper and lower incisors based on APO line.
Patient also showed a bimaxillary profile with inter-incisal angle around 115. Patient is showing skeletally average with an FMA of 24. Her CC-N-A angle is at 65 degrees, which is higher than the norm (50-56 degrees), which confirm the vertical maxillary excess that resulted in excessive gingival display.
Dentally, patient is showing class I molar relationship with slight cuspid class II.



Treatment Decision
Treatment options presented to patient:
Non-extraction

4 bicuspid extraction only

4 bicuspid extraction plus skeletal anchorage and periodontal surgery to correct gingival display
Various treatment VTOs were shown to the patient and the final treatment plan selected was 4 bicuspid extraction with skeletal anchorage to correct gingival display and reduce patient profile.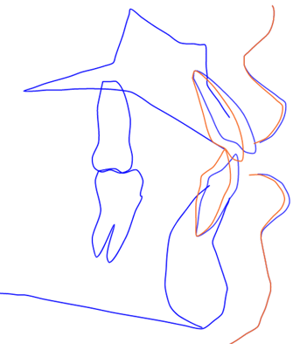 My approach to this case is to address patient's two main concerns, profile and gingival display. Non-extraction would never have achieved our goal of profile reduction. Extraction of upper and lower arch would 've worked to reduce patient profile, however with any extraction treatment plan, gingival display would increase. Therefore, skeletal anchorage was included in our treatment plan to intrude upper arch to correct her gingival display. Periodontal surgery was also performed in this case to improve the overall outlook.
The patient was quite adamant about not showing any gum when the treatment was completed. Reasonable expectations were set at the start of treatment and both patient and I agreed upon what was possible with orthodontics plus skeletal anchorage, followed by periodontal surgery.
Case Outcome
After 2 and ½ years, treatment was completed. There were some bumps during the process, but overall, treatment went quite smoothly. Patient let us know that between her friends who has had orthodontic treatment, they all voted her as having the most drastic change. Her friends even questioned if she had plastic surgery. Patient is ecstatic about the outcome and has since recommended quite a few friends to us for treatment.