Aligner+ Consulting & Mentoring gives you expertise at your fingertips
Let's be honest
As a busy dentist, it's often hard to find a minute, let alone an hour. So doing a full orthodontic diagnosis and plan (which can take an hour after getting extensive training) may not be feasible. Thus, we've seen that the majority of dentists who provide aligners only do 30% of a complete diagnosis and simply approve the setup from the lab without knowledge of how to review it well.
We've seen that this can cause issues. Your lab technician isn't a dentist. He doesn't do a full check. If you rely fully on him to dictate your treatment, you may see extended treatment times, teeth not moving as expected, under rotations, incomplete corrections, frustrated staff, uncertainty on how to correct, and diminishing profits as your time gets eaten up by inefficiency.
Watch this video to learn more about Mentoring and Consulting in Aligner+
Luckily there's a new Aligner+ mentoring program
A licensed dentist guides you in 3 simple steps
Progressive Orthodontic Seminars—the leader in orthodontic support and education for dentists—now offers a way to do comprehensive aligner diagnosis that fits into your schedule. With our consulting and mentoring programs, a licensed dentist helps you complete a 10-part diagnosis plan for your patient.
Your role is as easy as 1-2-3: You just screen, submit, and evaluate.
Your consultant or mentor will do the other steps (provide ceph analysis, trace the model, design VTOs, analyze torque and skeletal resistance, compare treatment options, customize treatment, and suggest what you should include in the Aligner Submission Form with notes to stager).
Who are my consultants and mentors?
Licensed dentists

Have extensive aligner and orthodontic knowledge and experience

Tried and tested by Progressive Orthodontic Seminars - all have passed POS' rigorous instructor training process to ensure quality diagnosis skills, communication, and expertise
What system will my mentor use?
The consulting and mentoring system matches best with ClearCorrect's system. Although you can use the diagnosis support and modify it for any brand of aligner tray, the consultant's plan works best with ClearCorrect. This is because your consultant's diagnosis and plan is specific to ClearCorrect's materials and the ClearComm software.
Also, if you order ClearCorrect's Unlimited Package, you get freebies (like free consulting or discounted mentoring)!
Consulting and Mentoring: How are they different?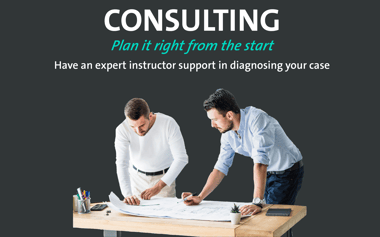 Consulting provides you expert instructor support in diagnosing your case.
Perfect for those that just want initial help with their plan.
If your consultant also suggests brackets or wires during your case, they may be discounted or included1 at the time of initial diagnosis if you have chosen the Unlimited Package!


For one upfront cost, Mentoring covers expert instructor support through your case.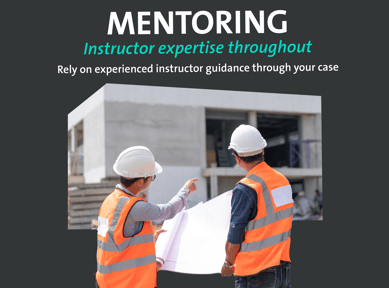 Instructors communicate with you in key stages during diagnosis, setup, progress and finishing for up to five years.
If your mentor also suggests brackets or wires, they may be discounted or included1 at the time of initial diagnosis if you have chosen the Unlimited Package! This is available from the mentor at diagnosis and revisions during your case as you need them.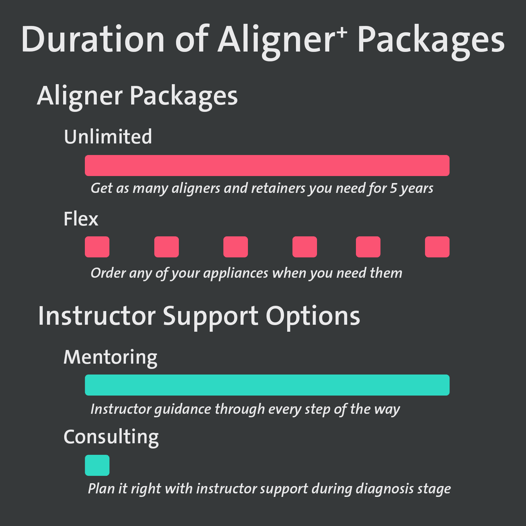 So….how much does consulting cost?
If you are an Aligner+ member, instructor consulting is included FREE with every ClearCorrect Unlimited case.
Yes that is correct, free.
At the time of this writing (August 2019), this special discount is currently only being offered only in the USA and Canada, but is expected to launch worldwide soon.
This special rate is available to Aligner+ members. While there is no membership fee, there are some requirements.
To become a member, dentists must opt in as well as join the Aligner+ educational program (a part-time, 4-seminar series), or have graduated from POS' Comprehensive Orthodontic series or be a Board Certified Orthodontist. Even with mentor support, dentists still need to understand the fundamentals of aligner diagnosis and tooth movement to ensure their ability to evaluate and succeed.
For Flex cases, consulting is around US$300 (cost varies by country). If you'd like more help throughout the case, you can upgrade with mentoring for an added cost1.
Want to see if Aligner+ mentoring is right for you? Request more info
1 Costs, availability and features may vary per country. Please contact us (info@posortho.net) for location-specific information.