Exclusive to PDS, Discover Our New Second Order Bend Pliers Set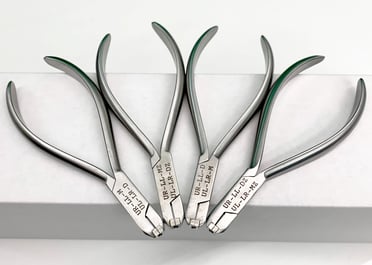 Progressive Orthodontic Seminars (POS) and Progressive Dental Supply (PDS) are proud to introduce new, innovative finishing pliers for second order bends designed by head instructor, Dr. David Dana.
Second Order Bend Pliers
Depending on your diagnosis of root angulation, incisal edges, and marginal ridges, the mesial or distal root movements required will determine the type of second order bend needed on the archwire. In his quest to continually improve his own patient outcomes, Dr. Dana conducted testing on orthodontic instruments that are currently available on the market, but was not finding a truly efficient second order bend plier. As such, he designed the pliers that could do every second order bend, save chair time, and also accomplish his treatment goals.
Two one-sided step pliers accomplish eight bends each (four on each arch). Two Z bend pliers are capable of four bends each (one per quadrant). The ability of the pliers to cover all 24 possible combinations of second order bends, intraorally, is a game changer for all dental professionals doing orthodontics.
"This set will make your life easier. Case refinements and finishing will be better, simplifying your work and giving more predictability in results for your patients," states Dr. Dana, "there really has not been a set like this before."
Advantages and Benefits
The four part pliers set was prototyped with the dental professional in mind. Keeping the archwire bending intraorally near the bracketed teeth eliminates marking and removing the archwire to make the bend, and eliminates bending errors in addition to the benefits outlined below.
Benefit One - Eliminates the need to remove the wire for making bends. After slightly pulling the archwire away from the bracket, placing the bend in the correct position relative to the tooth and simply squeezing the plier will prove a precise bend every time.
Benefit Two - Reduces bracket repositioning. After brackets have been repositioned during the alignment process, in finishing there are some millimetric changes that can't be easily corrected by repositioning brackets (it can actually make it worse). Free bending the archwire outside of the mouth can create inadvertent plane changes that will affect the tooth buccal, lingual or vertically.
Benefit Three – Simplifies complexity of case refinements and finishing. The ability to make intraoral case refinements significantly reduces chair time.
Precise intraoral wire bending is a key advantage to using the new second order bend pliers set.

View an instructional video on our ProgressiveOrtho YouTube Channel to see the pliers in action and purchase the new Second Order Bend Pliers Set with preorder specials available now through your SmileStream account. Don't have an account yet? It's free to sign up and gives you easy access to our Progressive Orthodontic Seminars online community to learn more about how your General Practice can successfully offer orthodontic services.