As dentists, we pride ourselves in being great problem solvers, using diagnosis to solve the range of dental issues that we see. To ensure we provide the best treatment possible, we not only think about the dental health, but also the esthetic results, and the longevity and efficiency of treatment. Sometimes we have to reach into our experience and training to find great solutions that work. This blog showcases one of these challenging cases that was worked up beautifully.
This case was treated by Dr. Mario Flores, a Periodontist in Southern California who graduated

from one of POS'

first Comprehensive Orthodontic classes. Dr. Flores teaches in the Periodontics department at Loma Linda University and

is a Diplomate of the American Board of Periodontology. He

will be the instructor for our Esthetic

Periodontics

seminar in Orange County, CA on October 21-22.
Utilizing the strength of orthodontics, implants, and

periodontics

together, Dr. Flores was able to create

a profound result

that his patient will appreciate for many years to come.

While some dentists would have skipped Step 2 or have gone straight to placing implants, Dr. Flores used an effective protocol to create a more long term, beautiful finish. Read further to see the steps of his treatment.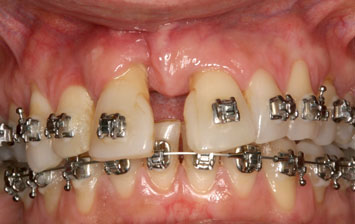 Step 1
Faced with these hopeless central incisors, Dr. Flores decided to align the teeth and close the

diastema

with Orthodontic treatment to create the ideal space before placing the implants.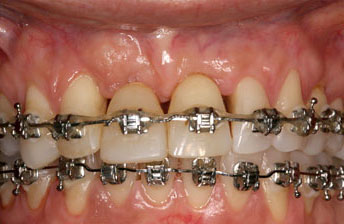 Dr. Flores utilized the non-surgical treatment for slow orthodontic extrusion to promote formation of new bone for improved implant placement and soft tissue to contour the

gingival

margin.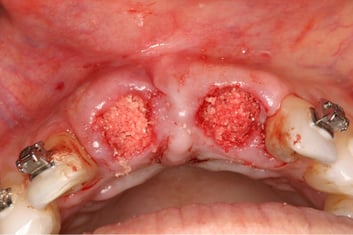 Step 3
As the central incisors were extracted, care was taken to preserve the ridge in the esthetic zone.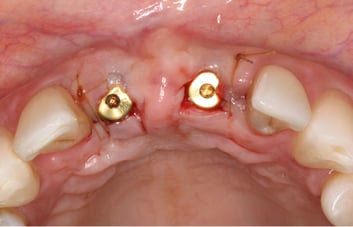 Step 4
Conservative surgical flaps were designed to preserve the hard and soft tissues in the esthetic zone.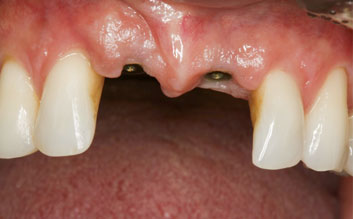 Step 5
Natural gingival architecture was created to maintain an esthetically pleasing gum line.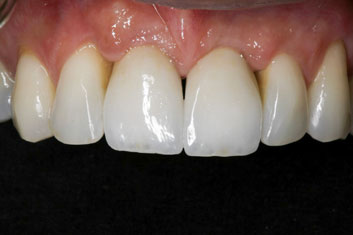 Step 6
Final restoration photo. You can see that Dr. Flores took the time to create proper periodontal contours, knowing that the

gums

would have a big impact on the esthetic outcome of

this case.
This case showcased what dentists can truly accomplish. Although Dr. Flores was able to use his knowledge in periodontics, orthodontics, and implants, all dentists (even with less training) have the ability to do great esthetic work like this. With a few days of training and practice, you too can understand how to treatment plan and set up beautiful finishes like this.