This week we're celebrating the one-year anniversary of the release of SmileStream. In the past year, SmileStream has transformed the way thousands of dentists diagnose and treatment plan their orthodontic cases. It's been a very exciting year, but there is so much more on the horizon that we can't wait to share with you.
Watch this video presented by SmileStream President Miles McGann to hear his vision for the future of SmileStream, or continue reading below for a summary of the new features coming soon.
UPDATE 8/1/2017: As of today, the SmileStream Dental Tab and other new features mentioned in the following video have been released to all SmileStream users. Log in to your account now to start using the new tools!
A NEW ERA OF INTERCONNECTED DENTISTRY
The vision for SmileStream is to be a platform for the new era of interconnected dentistry, making communication between dentists smooth and easy. With all your patient data stored in one place, sending a case to colleagues for consulting is done with a click of a button.


COMPREHENSIVE DENTAL DIAGNOSTIC SOFTWARE
In the coming weeks, we will begin to roll out a new, free module to all SmileStream users. This module is a Comprehensive Dental Diagnostic Software with many new features that will streamline your practice.
These features include…
CHARTING+.
Smart documents that guide you through the diagnostic phase

Available for comprehensive dental, perio, ortho, & TMJ
In your practice, you always chart your patients for perio, dental and other issues. However, it's generally done on paper. SmileStream Charting+ guides you through the diagnostic phase with smart documents so that you never overlook an issue again. Charting+ allows you to digitally document comprehensive records for general dentistry, periodontics, orthodontics, and TMJ.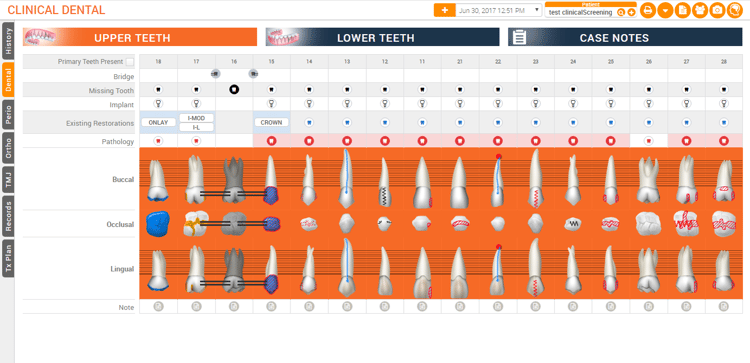 AREAS OF CONCERN
A list of areas of concern that automatically populates as you input Charting+ data

Allows you to quickly see if you have addressed every area of concern in your comprehensive treatment plan
As you input data into Charting+, any time you select something outside the norm, that area pulls up onto a new list, allowing you to make sure that you are handling every single concern in your comprehensive treatment plan. This systematic, methodical way of addressing your patients concerns will make taking on difficult cases much easier.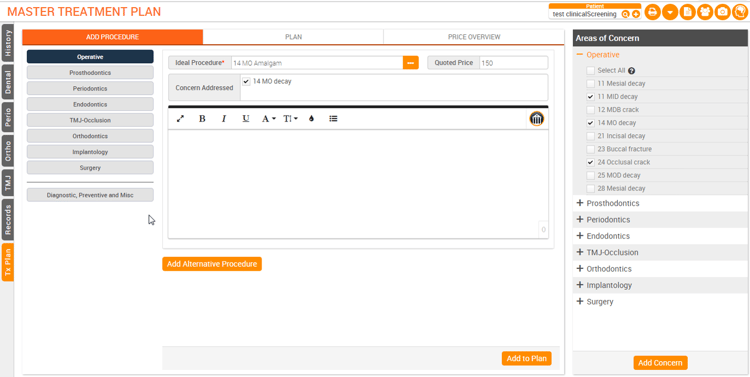 OFFICE PRICING TOOLS
Create a set list of prices for each procedure you offer

Calculate the total patient fee for your comprehensive treatment plan

Compare your pricing to others in your area
New office pricing tools allow you to set a price for each procedure in your practice. Each time you add a new procedure to your comprehensive treatment plan, the total fee automatically updates. You can also compare your prices to other SmileStream users in your geographical area. This will help you get a better idea of how other doctors around you are pricing each procedure, thus allowing you to adjust your prices accordingly if you wish.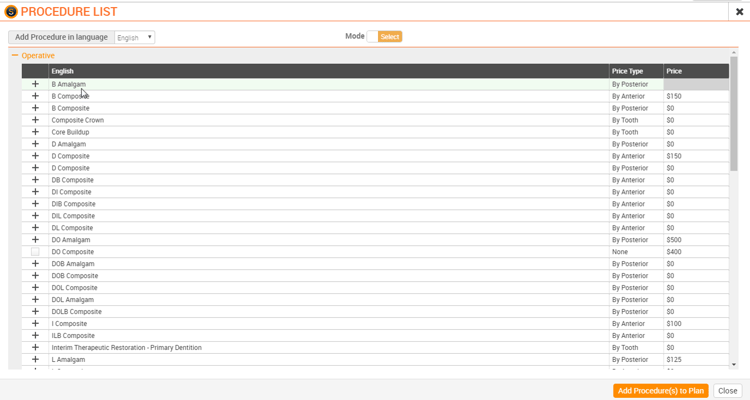 RESOURCE LIBRARY
Create resources such as protocols, treatment plans, and training courses with slideshows, photos, videos, and quizzes

Sell your resources to the community, share with the community for free, or use them privately
The new resource library allows you to create resources for yourself, share those resources with other SmileStream members, as well as sell paid resources. These resources can be protocols, treatment plans, and training courses for each area of dentistry that you do. Resources can include slideshows, photos, videos and quizzes.
The library can be useful to you in a number of ways. You can easily share resources with your office staff so they know what your standard procedures are. Your resources can also serve as a reminder if you haven't done a certain procedure in a while. In addition, you can create your own revenue stream by selling your resources to the SmileStream community.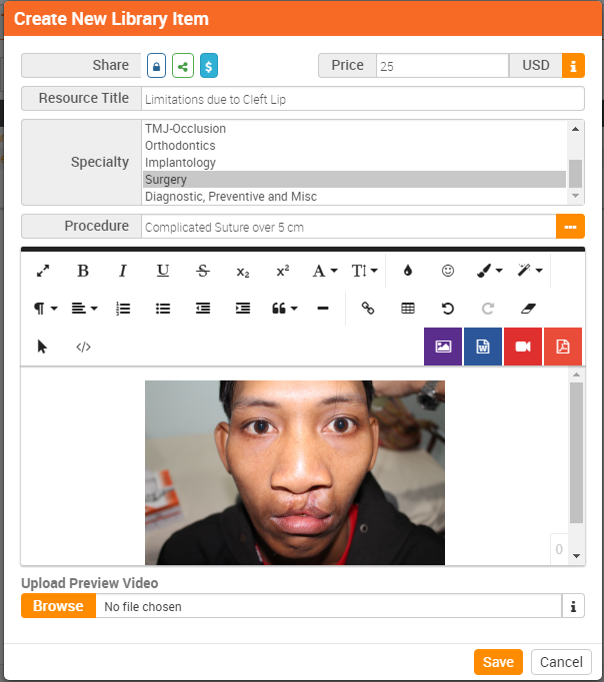 PATIENT REPORTS FOR COMPREHENSIVE DENTISTRY
Compile your comprehensive treatment plan in a printable format to give to your patients
In addition to orthodontic patient reports, we will now offer patient reports for comprehensive dentistry. This allows you to compile your entire comprehensive treatment plan and print it out in a clear format to give to your patient for your second consultation.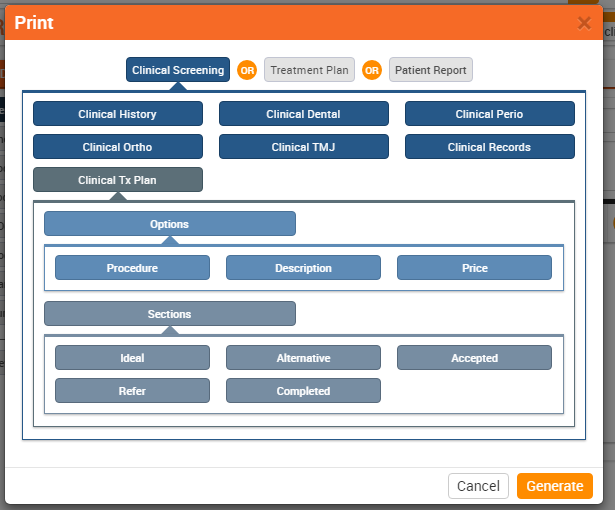 CONSULTING ON EVERY SUBJECT IN DENTISTRY
Send any case to any doctor in the world to get free or paid advice
SmileStream will now offer consulting on every subject in dentistry. If you ever have a patient that you aren't quite sure how to handle, you can easily send the patient's entire file to any doctor in the world and get advice back either as a free or paid service. If you want to discuss a case with a friend, simply send them your case to look at and give you advice back. Or, send your case to one of SmileStream's leading consultants to give you advice for a predetermined price and turnaround time. You also can easily refer a patient to a local specialist through SmileStream, cutting down on any miscommunication that sending physical records may have caused before.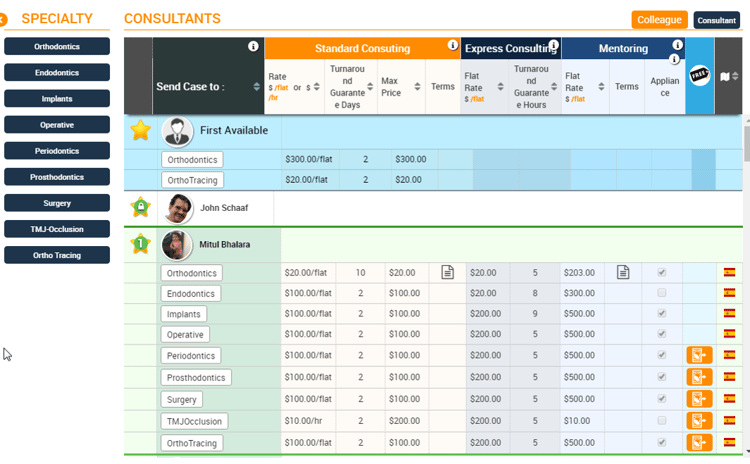 THE FUTURE OF SMILESTREAM: A COMPLETE OFFICE SOFTWARE
Future features include:
Scheduling

Payment processing

Accounting

Reporting

Insurance billing and processing
Although we are focused on creating clinical software at the present moment, we look forward to providing you with a complete office software in the future. With these additional features, SmileStream will be your one-stop shop for all your general dental software needs.
In the next few weeks, look for the announcement that we are live with the comprehensive dental module. This module is free for all users (the orthodontic module will continue to be free for POS students and grads). We encourage you to invite your referral sources and colleagues to create a free SmileStream account because the more people that use it, the more useful this tool will be for your practice.
What new SmileStream features are you looking forward to? Share in the comments below!