Exploring the Essential Orthodontic Products for Your Dental Office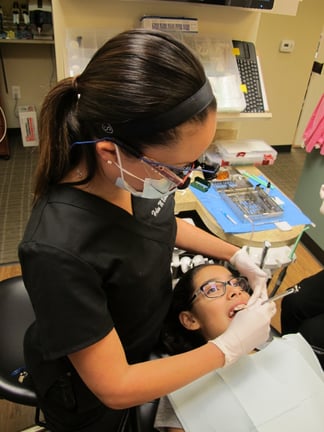 General Practitioners use orthodontic products to improve patient outcomes; Dr. Helen Barron pictured.
Progressive Orthodontic Seminars (POS) and Progressive Dental Supply (PDS) are the authorities on the orthodontic products you should be using in your dental practice.
POS founder, Dr. Donald McGann, is the innovator that brought interdisciplinary orthodontic learning into the General Practice realm so you could easily diversify your business. With a few important orthodontic supplies, such as brackets, bands, and archwires discussed below, you can expand your diagnosis options and treat all of your patients' needs currently walking through your door.
Brackets for the correct tooth movement
Moving a patient's teeth is about fixing form and function. While your patients are likely to be thrilled with straight teeth and an amazing new smile, they might not realize the functional benefits you're providing by bringing their teeth back into alignment. Our custom torque brackets are adhered and positioned on the tooth to begin the realignment process and hold the slot(s) ready to accept an archwire and other auxiliary attachments.
Bands for the right mechanical advantage
Our uniquely designed orthodontic molar bands are used to fit around the teeth to provide solid anchors for the archwire to apply force according to your analysis. Using bands over brackets in the molar areas gives a mechanical advantage and the extra re-enforcement needed for more difficult cases, i.e. those patients requiring transpalatal arch bars, headgears, or lip bumpers.
Archwires for case refinement and finishing
Our exclusively designed and shaped archwires connect the bracketed and banded teeth to apply the force to correct malocclusions because one standard straight wire does not fit all. Different transitional wires will be applied throughout treatment to gauge for the right compensations. Traditionally, hand bending of wires was required to specifically fit each patient, taking valuable time away from your practice.
Save Time by Using the IP Appliance™
Dr. McGann's patented individual patient appliance system allows you to order the specific blend of appliance products needed for each of your orthodontic cases. By using our comprehensive collaboration and mentoring platform, SmileStream, you can use digital diagnostic tools to chart each of your patient treatment plans, and then order your customized IP Appliance™ in the clinical section of the program to maximize your practice efficiency.
Benefits
1) The IP Appliance™ has over 250 appliance options with custom torque and rotations for each bracket, including CIIE for the lower molars, all designed to obtain ideal treatment results. With a wealth of pre-formed archwires to choose from, you'll get hours of chair time back without the need to hand-bend wires in a busy practice environment.
2) It's easy to use our electronic ordering, with quick turnaround processing, and have our PDS service professionals assemble everything needed for your patient's treatment characteristics. Confidently decrease your Dental Assistant's need to be in the inventory closet searching for products and increase their ability to be by your side assisting in more oral examinations.
3) PDS technicians also perform custom welding of all molar bands specific to each patient order. With approximately 37 band variations, including options with cleats and sheaths, POS treatment plans help you quickly decide what will be the best course of action for faster finishes.
Example of an IP Appliance™ card customized for your patient's unique needs.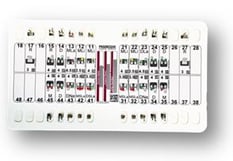 If you are looking for the best advice on what products you should be using on the orthodontic side of your practice, rely on the years of innovative testing and improvements introduced into the marketplace by our POS founder.
Dr. McGann's diagnostic system and individual patient appliance will revolutionize your orthodontic treatments through pre-assembled and easy-to-handle supplies. Ready to get started with your new orthodontic product options? Sign up for your free SmileStream account and start exploring our collaborative community to save time and achieve orthodontic success today.