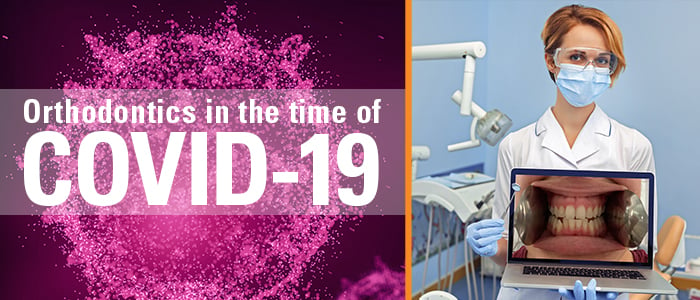 We are publishing articles in a new series called "Dentistry in the time of COVID-19", addressing how dentistry and orthodontics are changing, with tips to adapt your practice to this new environment.

If you have patients needing orthodontic care, you may wonder, what are the initial steps to start an orthodontic case during this unique time.
This article explains how to set up your orthodontic cases (relating to both bracket and wire patients and clear aligner patients). As COVID-19 restrictions and patient concerns continue, read extra tips to make getting records safe, practical and efficient.
Be wise with your time, and get the same quality results, safely
Many dental offices have new limits on how many patients they can have in their office at a time, to follow COVID safety mandates. So, it's important to fill these times wisely with procedures or appointments where meeting in person is needed or beneficial.
Luckily, orthodontics can be arranged to minimize in-person meetings if you take a few steps to set yourself up. You can select meeting patients for just a few key sessions, instead of traditionally seeing patients monthly.
__________________
3 Principles to Get Orthodontic Records in the COVID-19 Era:

Communicate well with your patients, virtually when you can

Get your initial photos remotely

Minimize office visits and chair time
__________________

Using these principles, we'll show an example of how you can start treating a new orthodontic patient, even during the limitations of the coronavirus situation.
How to Start an Orthodontic Patient during the Coronavirus Crisis: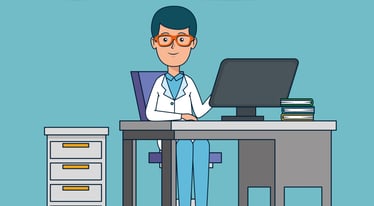 1. Consult with Patient about Orthodontic Needs (can be done virtually)
Reach out to patients who mentioned an interest in fixing their bites or are good orthodontic candidates. Email or call to let them know that you offer virtual dental and orthodontic consultations and see if they'd like to schedule a 15 to 30 minute session. For some, it may make sense to offer this virtual consult for free as an act of goodwill, or have a nominal charge.

At this consultation, you can discuss any of their concerns, and also do an orthodontic screening. You can complete most items (if not all) of the screening virtually. See Our Orthodontic Screening Checklist. For any areas you may want more inspection on (some doctors like to feel the jaw joint for TMD), you can add that to the next in-person appointment. Not sure how to start the conversation? Here's a sample script you can modify and use:

Sample consult request script:
"We want to make sure our patients still can access dental care and are offering limited virtual consultations for free. Based on our last visit, we noticed that you would be a good candidate for a virtual oral health and orthodontic evaluation. With this quick screening, we can let you know about your teeth and jaw alignment to better understand your current dental health. To schedule your virtual consultation, please select your time on our calendar here. *With all our services both in-person and remote, we are practicing safety measures following the state and American Dental Association's COVID-19 recommendations, so you can feel confident that we are taking the highest infection control precautions."

2. Take Initial Photos (can be done virtually)
To better help you see if your candidate would benefit from braces or aligner orthodontics, you can get your initial photos remotely as well. Here's how you can get intra oral and extra oral photos from your virtual consultation, or from them sending you photos.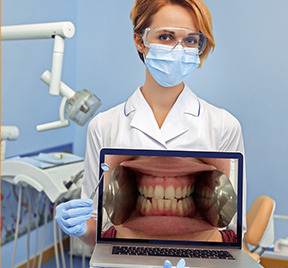 Getting photos from a virtual consultation:
Ask your patient to sit in front of a blank wall (preferably white/light in color) with good lighting. Have them face to you, and to each side. You can screenshot or capture the screen when they are at the right angles in both smiling and rest positions.
Getting photos from patient:
Instruct your patient what photos you need and have them take photos at home and email or text you.
__________

__________
To get good side views of their back teeth and occlusion from home, you can either mail your patients retractors or get creative like asking them to use spoons. These photos should be good enough for you to be able to make an initial inspection. If any of the records are not of good enough quality, you can get updated records at the next appointment.


3. Take Remaining Records (in-office)
If after doing an initial review you see orthodontic need and the patient is interested in getting that fixed, you will then schedule an in-person appointment. You will get their cephalometric x-ray, OPG, and either intra-oral scans or impressions for your models. You need these to get complete orthodontic records and to be able to do your full orthodontic analysis.


4. Diagnose and Treatment Plan (remotely)
Work up your records and perform a comprehensive diagnosis and treatment plan, as normal. You can do this at home or at your office, and this does not need any chair time with the patient. We suggest creating a cephalometric analysis, model analysis, and Visual Treatment Objective (VTO), treatment plan with appliance design using SmileStream software for your ease.

5. Second Consultation and Get Case Accepted (can be done virtually)
You can schedule a virtual appointment or discuss this in-person. If you'd like to do this in-person, you can save time by combining this with the records or starting treatment appointment.

6. Treat and Monitor Patient (in-office or virtual)
For patients starting orthodontics with brackets and wires, you will schedule an appointment with chair time to start treatment.
For those starting treatment with clear aligners, you have the option to meet in person or to mail the trays to the patient and schedule a remote virtual session. You will work with them to check the fit of the trays and communicate what you need from them in treatment. See how visits with aligner therapy can even be limited to just one chair time appointment.
________________________________
We hope that you find good services that are valuable to your patients and can be adapted to be profitable during the newest regulations and environment. If you're interested to start offering orthodontics to patients, learn more about the fundamentals of orthodontic diagnosis and case selection at a free class.

Want to add ortho to your practice?
Try our orthodontic CE programs out for FREE


TRADITIONAL SERIES
ALIGNER+ SERIES
Enjoy Day 1 of the series or a webinar

Learn from a 2 hour webinar or video

____
POS makes it easy to learn, no matter what your circumstances are. We offer formats that work for everyone's schedule and safety needs. Choose from interactive webinars, online videos or in-person classes (classroom teaching starting again this Fall).

We offer support to our students and graduates through graduation and thereafter. Alongside these benefits, you can take advantage POS' lifetime free retake policy in any format. Many doctors are enjoying how they can learn now through webinars and later retake for free in-person when they're more able to.

Don't miss your chance to attend Day 1 in our next series!
Wednesday

5:30pm to 7:30pm PDT, includes 8 CEs
Webinar Classroom via Zoom
Have tips or questions about starting orthodontics in this new environment?
Share in the comments.