As technology gets smarter, and marketing more pervasive, we've seen an increasing trend of DIY (do it yourself) "orthodontics".*
For quite some time now, there have been orthodontic solutions requiring less skill and understanding by dental professionals. But now some companies are looking to cut out the dentist and orthodontist entirely and go straight to the consumer. How did this trend start and what does it mean to the dental profession?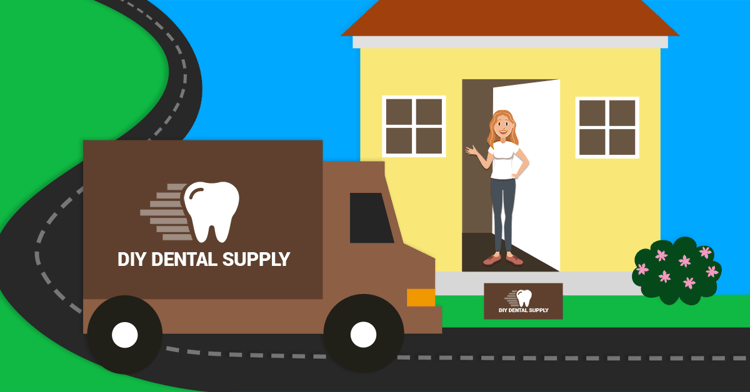 Invisalign, the Trend Setter
20 years ago, Invisalign revolutionized tooth movement with clear tray technology. Dentists took a short, 1 day course to learn how to discuss treatment and order trays using ClinCheck. Invisalign was wildly successful because of its simplicity to all (as well as their effective multi-billion dollar marketing budget).
No training was given on the traditional orthodontic principles like osteoclast growth limitations, TMJ, malocclusion, facial structure, open bite, growth, or myofunctional habits. Dentists liked the simplicity and demand, and patients liked the invisible look. Although lab costs were 218%-1645% higher than traditional braces and there was less control in the product, dentists still made some profits on the cases that were approved and have found some success with it.
Despite its popularity, Invisalign is not as widespread as it may seem. Many patients, dentists and orthodontists seem to still like the superior control and full treatment of traditional braces. Invisalign claims that they served its 4 millionth patient last year, but still are only used in around 8% of the new orthodontic patients in North America.2
Is Technology Replacing Dentists?
Large gains have happened within the past few years in the DIY orthodontics field. Patients are now bypassing dentists and orthodontists completely to straighten their teeth because of the accessibility of new technology.
In 2013, a new startup company, SmileDirectClub (SDC, then called SmileCareClub), appeared. Promising up to 70% less costs to patients and no doctor visits, SDC has recently spurred a mainstream interest in DIY braces.3
SDC is a subscription service that mails customers clear trays in a progression for around $2000. Patients can send in their DIY impressions to the lab, where a remote dentist or orthodontist works up their tray design. Patients then wait for monthly trays in the mail if they proceed with the treatment recommendation. Though patients never see a dentist, SDC claims that cases can be monitored remotely through photos by a dental professional if issues arise.4 The dental profession is asking, is this sort of "care" enough to ensure orthodontic success? With more patients going through programs like this, we will soon see.
With Align Technology (owners of Invisalign) being a part owner and manufacturer for SDC, it's no surprise that SDC also has an impressive marketing budget targeting consumers directly.5 Young adults have been seeing advertisements on Facebook, Pandora, and and a strong presence on social media apps like Instagram, Youtube, and Pinterest as well as high influence blogger sites.6,7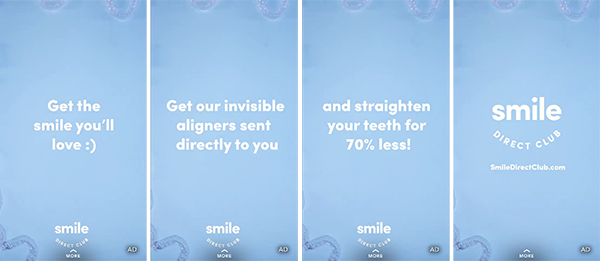 A Smile Direct Club advertisement as seen on SnapChat6
Taking the DIY orthodontic trend even further, there are stories of people skipping dental professionals completely with neither a treatment plan or a visit to a dental professional. In March 2016, a 23-year-old design college student, Amos Dudley, decided to make his own set of 12 clear trays through 3-D printing technology. Mimicking the Invisalign model and 16 weeks of wear, he claimed to fix the relapse crowding that he saw earlier. His story became wildly popular from a Buzzfeed article.8
There was a large uproar in the dental community warning individuals from trying to straighten their teeth without a dental professional.9
New technology and companies are starting a DIY braces movement. Is this reducing dentists' knowledge of orthodontics even further…to pretty much skip them altogether?
---
So dentists, what does this mean for you?
You may see a reduction in your Invisalign, Clear Correct, and braces inquiries

You may see some unusual DIY issues with your patients. For example, this man got a worse Class III and also filed his own teeth down.10

You may get inquiries about the pros and cons of DIY braces

You may be asked how to take impressions or to take impressions for someone considering a DIY option

You may have more informed patients inquiring about how you can help them straighten their teeth
What we suggest for dentists:
Don't: Get upset at patients considering other options outside the profession. Do: Protect yourself.

Understand tooth movement well, so you can discuss options with your patients intelligently. You are a professional, so know the tools of your trade. The best dentists don't just listen to what a software tells them to do. So read a book or take a course and understand how teeth move and what their limitations are.

Help your patients make an informed decision. DIY aligners may be more or less feasible for certain case types. If a patient has certain malloclusions, please help them to understand what results and costs they can expect with their different options (DIY aligners, aligners monitored by you, traditional braces and surgery). We get it. $2000 may be the only feasible price for some patients to straighten their teeth. But patients should know what the different treatment options consider (or don't consider), like how bites and joints end up long term.

Know what's trending now. Read the Dentaltown threads of colleagues who have experienced patients with DIY braces. Watch the vloggers who explain the pros and cons they've experienced with this type of teledentistry. Knowledge is powerful and can be easily attained.
While improved technology can have a positive effect for patients and the profession, it's important to proceed with caution when the dentist's expertise and supervision are no longer included in orthodontic treatment. Please keep your patients informed about the pros and cons of all their available treatment options, and keep yourself informed on new developments in the DIY orthodontic trend.
*Please note that by definition, orthodontics deals with the diagnosis, prevention and correction of malpositioned teeth and jaws.11 Thus, please use caution as not all claimed orthodontic providers or product manufacturers actually use the true term of orthodontics.
References
"5 Reasons Why Every Invisalign Provider Should Consider Additional Orthodontic Training". Progressive Orthodontic Seminars. Retrieved May 18, 2017.
"Out Of Silicon Valley, A Billion-Dollar Orthodontics Business Built With Plastic And Patents." Tindera, Michela. Forbes. April 25, 2017.
"SmileDirectClub". Wikipedia. Retrieved May 18, 2017.
"Pricing for Everyone." SmileDirectClub. Retrieved May 18, 2017.
"Align Technology to Supply Non-Invisalign Clear Aligners to SmileDirecClub in North America" Wall Street Online. Retrieved May 18, 2017.
Smile Direct Club. SnapChat App. Retrieved April 27, 2017.
"At-home impression kit for invisible aligners + $100 off aligners (Up to 90% Off)". Groupon. Retrieved May 18, 2017.
"Here's How A College Student Created His Own Braces For Less Than $60". Stephanie McNeal. Buzzfeed. March 17, 2016.
"Why DIY braces are actually a terrible, terrible idea". Tara C. Smith. Washington Post. March 25, 2016.
"Smile Direct Club | 5 Things I wish I knew BEFORE". Senny D. Youtube. March 25, 2017.
"Orthodontics

". Wikipedia. Retrieved May 18, 2017.
What are your thoughts about DIY orthodontics? Share in the comments below!