We are publishing articles in a new series called "Dentistry in the time of COVID-19", addressing how dentistry and orthodontics are changing, with tips to adapt your practice to this new environment.

With communities and businesses starting to reopen in certain regions, many dentists have strategized how to strengthen their practices' financial health.

In this article, we've detailed five reasons why more general dentists are choosing to add orthodontics to their services.

__________________
5 Reasons Why Dentists are Adding Orthodontics
to their Services during COVID:
1. Gain a steady revenue stream
2. Maximize the profitability of their valuable chair time

3. Able to use remote check-ins

4. Staff can assist to minimize doctor time

5. Patients demand it (especially now)
__________________
1. Gain a Steady Revenue Stream

If you're looking for a predictable cash flow during COVID-times, orthodontics has shown to be a lucrative addition to many dental practices.
Dentists have been seeking more consistent income moving forward. With an abundant source of orthodontic patients in most dental practices, dentists can quickly supercharge their cash flow. For example, you can have an extra $7000+ each month by starting just two monthly orthodontic cases (read case study here). Just imagine if you decide to start even more than two cases each month.
This year, more patients have been looking to pay in monthly installments. Orthodontics is the best service for this, with less collection risk compared to shorter dental procedures.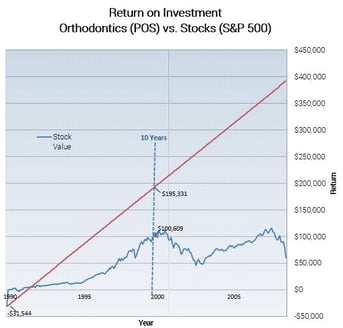 2. Maximize the Profitability of Valuable Chair Time
In most practices, you are only as profitable as your chair time allows. In some locations, extra spacing is still required between patients due to COVID mandates, making chair time even more valuable.
Many dentists have noticed that orthodontics is very profitable per chair time hour, especially now with patients being more willing to do remote check-ins.
Both traditional bracket and wire, and clear aligner orthodontics do not require a large amount of chair time. When scheduled and planned well, orthodontics allows you to fill your chair time with other procedures to maximize your profitability. Because of this, orthodontics can be a seamless addition to a cosmetic or family practice.
Since much of your orthodontic work is in your design, treatment planning, and patient management, you can limit your patients' chair time to as little as one appointment for clear aligner orthodontics or every 10-12 weeks with traditional orthodontics. Monitoring and maintaining good orthodontic treatment can be done remotely, so use your valuable chair time for other things!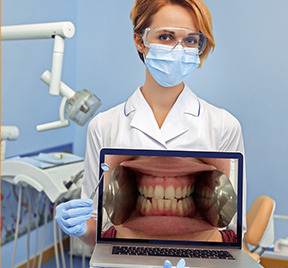 3. Able to Use Remote Check-Ins

With more patients comfortable with Zoom, Facetime, and other virtual check-ins this year, you can now optimize your teledentistry with orthodontics.
Using remote check-ups frees up your chair time and improves your profitability.
Orthodontics is a prime dental service for virtual check-ins. Aligner orthodontic therapy is well suited for teledentistry since you can straighten teeth and fix bites primarily with removable trays which you can mail to your patients. Fixed orthodontic patients still need to come into the office for regular wire changes, but that can often be spread out, every 2-3 months if your case is on track.
Once you have made a comprehensive analysis, set up a good treatment plan and communicated expectations, your appliances should do a lot of the work for you.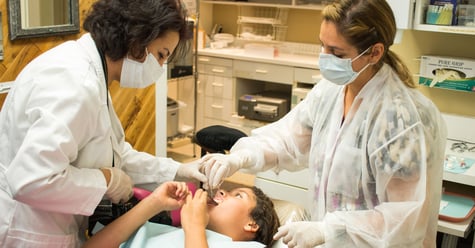 4. Staff Can
Assist to Minimize Doctor Time

Your team can help you even more, to make orthodontics even more profitable this year. For example, they can help you monitor patients remotely and address common patient concerns via phone, email or with video sessions.

There are many responsibilities your staff can do to make orthodontics more efficient: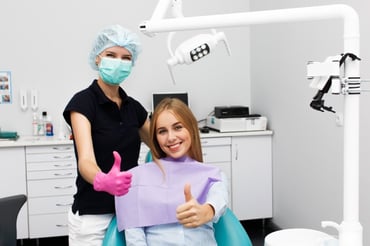 5. Patients Demand It (Especially Now)
We have noticed our students are helping more orthodontic patients this year than ever before. Patients are asking for orthodontics, and dentists are wanting to provide more of it.
Patients may see extra perks of starting orthodontics now when they are often masked or remote. Take advantage of this unique situation and talk to your qualified patients about their orthodontic options as it may be the best time for them.
________________________________
As we transition to a post-COVID economy, dentists are adding more orthodontics to their services. With its high profitability ratio and minimal use of chair time, it's an easy decision for doctors wanting stronger financials.
If you are looking to optimize your business with orthodontics soon, we can help you with education and support to be effective with your new service immediately. You can start treating patients and seeing new income within the first one to two months.
You can join our Aligner and Traditional orthodontic programs with either our virtual or in-person classes. If you're interested to start offering orthodontics to patients, learn more about the fundamentals of orthodontic diagnosis by visiting a class for free.
Want to add ortho to your practice?


Try our orthodontic CE programs out for FREE
TRADITIONAL SERIES
ALIGNER+ SERIES

Enjoy Day 1 of the series or a webinar

Learn from a 2 hour webinar or video
____
Is your community and office reopening? If you have tips or questions about starting orthodontics during or after COVID mandates, please share in the comments.